"It is our mission to make children's dreams come true in our stores full of magic" is ToyChamp's motto. ToyChamp opened its first 5 stores in The Netherlands in 2001/2002 and are pioneers in the toy sector. The first steps were taken in 1989 by CEO Koen Nolmans, who joined his father's company (Nolmans-Familiewinkels NV). Soon, brothers Wim and Frank Nolmans also joined the team and continued the toy brand's family tradition.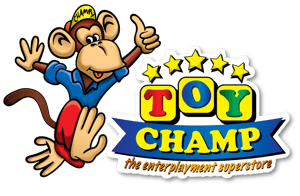 Currently, the successful toy chain has 29 stores, nine in Belgium and twenty in The Netherlands. ToyChamp also offers the wide range of toys via Toychamp.be and Toychamp.nl.
Where childhood dreams come true
ToyChamp is a multi-channel company: the online webshop and the physical stores of the toy chain form a strong package deal. Kathleen Claeskens, e-commerce manager at ToyChamp: "That's right! Retail and Etail belong together and we at ToyChamp are constantly working towards this idea."
Unlike other toy companies, ToyChamp offers a wide range of products and services. ToyChamp stands out because they keep a sharp eye on customer needs: the company makes maximum use of the physical experience. "It's not just the range and size of our stores that contribute to this," says Kathleen. "In addition to buying toys, children can also play in our shops. We create the ToyChamp experience through life-size shop-in-shops from LEGO, Playmobil, Schleich and Sylvanian Families and many others. There are also play tables in the shops so that children can enjoy their visit even more. ToyChamp is a place where childhood dreams come true."
PAY. is the total package
The ToyChamp formula is immensely successful. The company responds strategically to developments other toy chains ignore. ToyChamp knows that a visit to a toy store is no longer a short pit stop; it's a family trip. The online webshop is an extension of this. Is a product out of stock or did the customer see this exact product elsewhere, but they can't find it in the store? That's not a problem at ToyChamp. Customers can also easily place and pay an online order in one of the physical stores.
Kathleen: "That is also where PAY.'s service supports us at all times. We previously worked with a different Payment Service Provider, but we have decided to switch. PAY. facilitates secure online payments, offers a wide range of payment methods and they have easy connection possibilities. The last part was essential for ToyChamp's online webshop. We wanted to switch to Magento, but we were a bit unsure about the switch process. It was our web builder who was very pleased with the problem-free and easy contact with PAY. which is why we immediately put the switch in motion. Up to this day, we are very pleased with that decision."