Cameraland is a camera shop in the Dutch town of Alkmaar. It is known as a paradise for both photographers and videographers. The shop was founded in 1989 and was then called Foto Kiekie. In 2005 Cameraland dropped the name Foto Kiekie, and a new name was introduced. E-commerce Manager Steven Poldner: ''The name Cameraland is more up to date. After 31 years we are an established name amongst camera shops. At Cameraland, you can find anything in the area of photography and videography, both in our shop and on our webshop.''

Personal and with a nod to the environment
Cameraland is the place to be if you want to buy a camera or lens, but you can also insure your camera and trade-in or sell your old camera. The latter is where the camera shop strongly distinguishes itself. Steven: ''And the personal approach is essential as well. We take our customers from A to Z in their buyer's journey, and they value that.''

Besides the personal approach, Cameraland stands out due to its wide range of products. "We strongly believe in contributing to the environment. That's why we have a large selection of second-hand equipment'', says Steven. Cameraland believes that (camera) equipment does not always need to be brand new. A well maintained (by Cameraland tested and thoroughly cleaned) second-hand camera can be easily combined with more recent lenses. "That's what most of our customers do. They turn in their old camera and pay the remaining sum for a new or more professional camera," says Steven.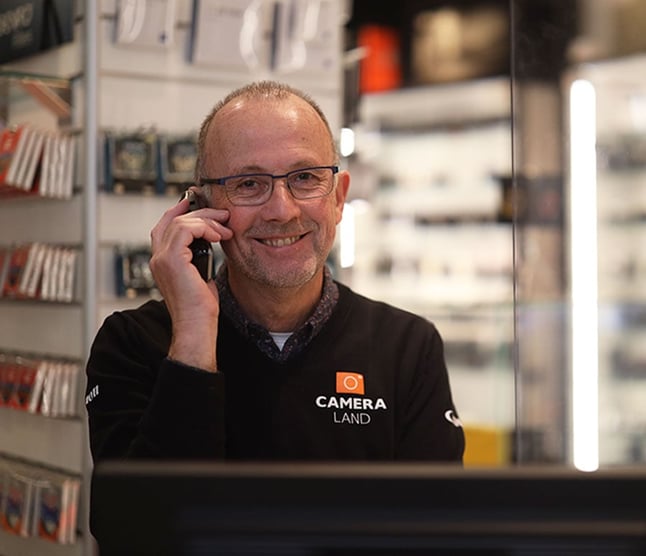 Customer interaction, above all
Customer contact is a powerful tool and the cornerstone of many companies and organisations. Customers often value this by their loyalty and level of involvement. According to Steven, this rule can also be extended to partnerships and collaborations. "It's almost the same,'' Steven asserts. "For the facilitation of payments in our webshop and our physical shop, we initially used the services of another Payment Service Provider. The collaboration was good, but as a customer of this payment service provider, we missed the personal contact we provide to our customers." Cameraland ended the cooperation and started looking for another Payment Service Provider. Steven: "Then PAY. came... and with PAY. it really feels like cooperation. It is a powerful partnership."