Do you notice that your customers have increasingly high expectations? For instance, in terms of accessibility, service and fast delivery times? You are not the only one. This expectation pattern is expanding all the time. Since instant payments are used with payment requests, there has been an increasing demand for variations of this feature, including refunds. Not without reason, because research by the Dutch Consumers' Association in 2021 at 200 webshops showed that 35% of webshops surveyed did not refund returns or refunded them too late. It can take up to a week or longer before customers receive the money on their account. This no longer fits the expectations of the modern customer. But how do you anticipate on this as an entrepreneur? Can it be done quicker, and if so, how?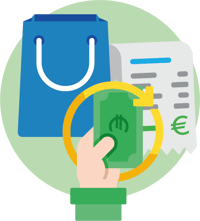 PSD2 enables innovation
Since the implementation of PSD2, many new features have been introduced, including Instant Payments. Instant Payments is a functionality that enables banks to process credit transfers instantly rather than via the SEPA Credit Transfer (SCT). As this new way of transferring money becomes more and more common, there is a growing demand for variations on this function, for example for returns.
After all, why should customers wait days for their money when the technology for an instant payment already exists?
Instant Payments + Refund = Instant Refund
To exceed your customer's expectations, PAY. offers Instant Refunds. Does your customer return a product? Instead of processing the refund as a regular bank transfer, we enable you to carry out a refund as an Instant Payment. Transactions no longer need to be included in a batch sent to the bank once a day but are sent directly via an API.

Instant refund is convenient for customers because they always get their money back immediately and securely, even during the night, on public holidays and at weekends. This creates a positive experience that customers remember, making them more likely to return for your services and products.

Application: Tactile
This feature, where a refund is executed instantly, offers many possibilities for companies in all industries. Like with our partner Tactile, because also in the events industry, more and more technology is used.
Tactile provides the ticketing for events and delivers a cashless solution with RFID bracelets that can be used to pay during the event. For visitors, this payment method is easy; they simply top up the balance on their wristband with iDEAL or another payment option and scan it at bars to pay.
Leftover tokens are history
As long-time festival visitors, the founders of Tactile found that there was still much room for improvement in terms of the visitor experience. They found that for payments, there was especially a lot to be gained at the end of an event. Everybody has been there: the last hour has arrived, but your pocket is still full of tokens, too many to spend. Or the tokens are gone, but to stand in line for that last coin... This is a potential loss for both visitors and organisers.
Thanks to the RFID tag in the wristband, an Instant Refund is automatically carried out on the PAY platform after leaving the festival grounds. The visitor immediately receives a refund of the remaining credit. Tactile has received many positive reactions due to this application, which sets a new standard for refunding credits at festivals.