Verf.nl has a rich past. Professional painter and founder Fabian Kerssens saw opportunities in the online sale of professional paint and founded Budgetverf in 2016. The idea behind the e-commerce company was groundbreaking and quickly led to a doubled turnover.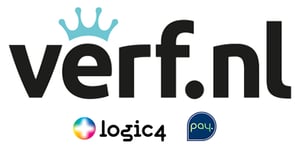 Over the years, Fabian has focused on professionalizing the company. Budgetverf entered long-term partnerships with paint producers, became a local paint supplier and even opened a large physical store in Akersloot (near Alkmaar).
In 2016, Rogier Goed, a good friend of Fabian, joined the company as managing partner. Since then, the entrepreneurs have been involved in the ins and outs of the company as well as an immense growth. And that's why Rogier and Fabian decided to rename the company to Verf.nl in 2019.
Verf.nl leaves competitors behind with unique USPs
With a razor-sharp proposition, Verf.nl has become the paint specialist. The webshop offers a wide selection of top brands that are delivered quickly to your home. Verf.nl has a wide reach and distinguishes itself by offering professional service in combination with competitive deals and user friendliness. "You can only achieve a strong proposition like that with the right team that shares the same values" says Rogier Goed, Managing Partner of Verf.nl.
All orders come in through the online sales channel of Verf.nl. At the online paint shop you can order paint, wall paint and painting tools from quality brands such as Sikkens and Sigma. "With a lot of benefits, our top brands are up to 40% cheaper! That is one of the distinguishing features of Verf.nl compared to our competitors" says Fabian, director of Verf.nl.
Rapid growth requires an all-in-one solution
In order to be able to focus on the front-end of your company, it is essential to have high-quality and well-integrated business software that keeps the processes running back-end. And that's exactly where Logic4 fills the gap.